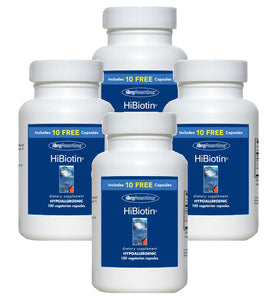 High-Dose Biotin - HiBiotin® 4 Bottles - 100mg x 400 Capsules
Regular price $154.95 Sale
Skip's Pharmacy Exclusive 90 + 10 Offer  - 400 Capsules.
Biotin is an essential coenzyme for a variety of carboxylation reactions, including the activation of acetylCoA carboxylase, a crucial enzyme in the normal, healthy synthesis of myelin. 
Suggested use:
As a dietary supplement, 1 capsule one to three times daily with meals, or as directed by a healthcare practitioner.
Serving Size: 1 capsule
Servings per Container: 100
Amount per Serving: Biotin 100 mg
Other Ingredients:
Hydroxypropyl Methylcellulose, L-leucine and Gluten Free!
Free Shipping in the USA